Major telecom innovation in CommScope
2 experts, Dirk Mellaerts and Debora Dockx share their on-site experiences in the R&D Department of CommScope. Dirk in the field of process engineering, Debora in product development. Both are assigned to major innovation projects within CommScope.
From network infrastructures to product initiatives
Dirk: When living overseas in the early 80s, I used to call my mother once a month. Even keeping the conversation to the essentials, I had to budget these phone calls as the bill took a serious bite out of my salary. In the 90s we witnessed an exponential increase in computing power which, combined with innovations in the telecommunication arena, would ultimately lead to the Internet Revolution and free calls to mom.
CommScope has established itself as a world leader in interconnecting computers, appliances, networks and communication channels in this new digital landscape. The relentless stream of demands for 'faster, cheaper, smaller' network infrastructures is translated into new product initiatives for the Strategic Engineering Team in CommScope, Kessel-Lo.
With a conceptual idea and a marketing plan at hand, we go on path-finding missions to define cost-efficient and environmentally-friendly production processes that can be integrated into any of the company's high-volume manufacturing sites.
Supported by a team of experienced scientists and lab technicians, we design prototypes, tools and experiments to characterize the behavior of candidate processes and compare the performance results against theoretical models, industry standards and internal quality specifications.
Every day is different in product development and process engineering. One day you focus on getting a surface polished with sub-micron accuracy, the next day you are faced with a chain reaction in the mechanical designs when changing a tolerance from 50 to 25 microns. One week we have a brainstorming session about the content for a better sample database, the next we discuss ideas for applying deep learning in the production environment.
The research work is very rewarding as we often find ourselves in uncharted territories working on optical fibers, pushing boundaries to prove that we can meet requirements.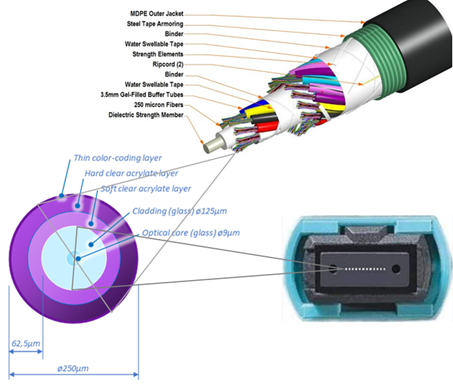 NOVUX launch
Debora: Fiber optics is an amazing technology, comparable to copper, but far more challenging for engineers and technicians. It's extremely sensitive to environmental and mechanical conditions like bend stress. Therefore optical fiber cables, closures and assemblies have to be designed so that extremely reliable connections are assured. With the launch of the new field closures bearing the trademark NOVUX®, I was assigned to 2 consecutive projects to create a new way of rationalizing the "wiring" harness inside the closures. A whole new product range of harnesses is about to be implemented. Connectors, components, in-and outputs, fiber and etc, all are involved. The target is to make life easier for the operators in the factory, speeding up manufacturing, avoiding errors, and preparing for the future complexity of connections.
Fig2: NOVUX® Hardened Terminal
©2022 CommScope, Inc., All rights reserved
The two pictures here below are showing the inside of a manually routed product and a machine-routed flexible circuit: a labor-intensive product vs. a plug-and-play product.
2022 CommScope, Inc. All rights reserved
Fig3: Manually routed product vs machine-routed product
A whole new machine line is in development to produce these new products. A case of concurrent engineering, challenging but revealing opportunities at the same time. To make these strategic projects a success, endurance and daily teamwork are key. As a product developer, I'm always encouraging short loops and iterative processes: 'reculer pour mieux sauter'. I'm as enthusiastic as Dirk about the rewarding research and always willing to 'boldly go where no one has gone before'.
Any questions about this reference? Leave your contact information and question below, and we'll get back to you soon.